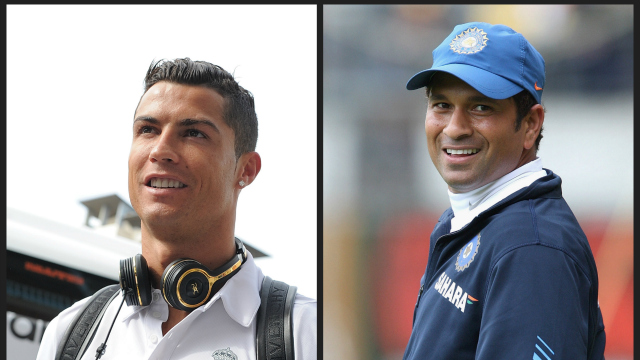 Cristiano Ronaldo and Virat Kohli on each other, ( March 2014)
"I take a lot of inspiration from Cristiano Ronaldo. The way he has stayed on top for so many years, it's nothing but down to hard work. I've heard he is the most hardworking footballer in the world and that's why he is where he is," Kohli told ECB.
"Messi is a genius but Ronaldo is giving him run for his money, because of his hard work and dedication" Kohli added.
---
Cristiano Ronaldo and Sachin on each other, (December 2015)
"I don't know much about cricket. I met him during my days in England. Maybe he was on a holiday. He told me that Manchester United is his favorite club. My teammates and Sir Alex told me about him. Carrick used to play cricket very often. Sachin is a great sportsperson. I wish him all the best."
"As one of the mentors of Smaaash, I'm very excited about it and Cristiano Ronaldo tie-up, both from an Indian perspective and for football fans worldwide. Football is the number one sport internationally and is growing at a serious pace in India. So playing against Ronaldo at Smaaash will be a dream come true for all the football fans globally," Tendulkar said.
---
Manchester United on Mahendra Singh Dhoni (January 

2017)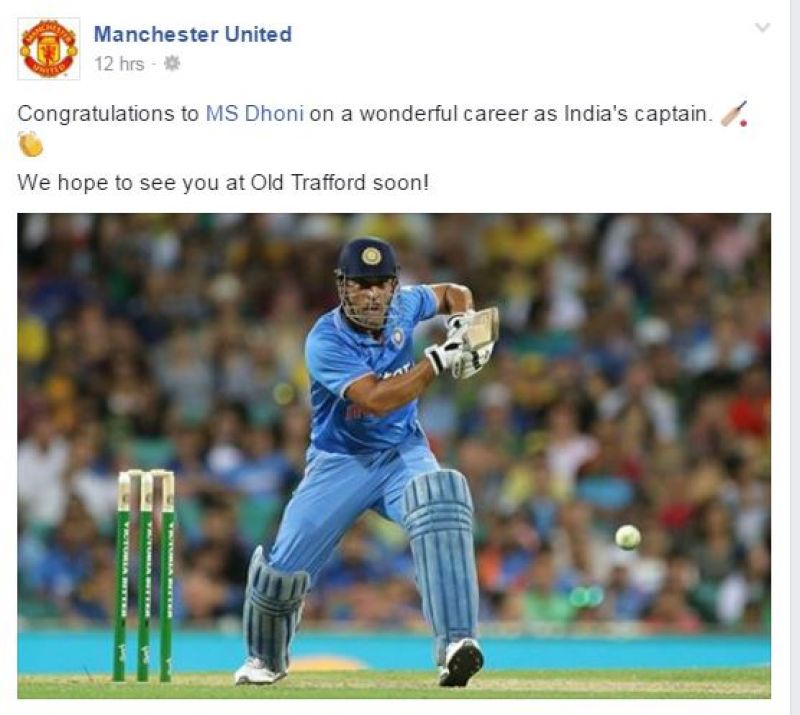 Very few know that Dhoni played as a goalkeeper during his school days in the football team, before making a name as a wicketkeeper-batsman. The explosive batsman is also a huge supporter of English Premier League club Manchester United. The Manchester United club posted a message on their official Facebook page congratulating the former Indian skipper on his wonderful career as India's captain.
---
Gareth Bale and Virat Kohli on each other, (April 2016)
Real Madrid superstar Gareth Bale had congratulated Virat Kholi on social media. "Quite an interesting story really, I have been a fan of cricket for ages and started following Virat Kohli, we got talking over social and he mentioned this idea "Sport Convo" that he was gonna start, he sent me more detail on it and I really liked it," Bale said.
---
Didier Drogba on MS Dhoni, (January 2012)
In the Pepsi advertisement, Drogba says, "I like Dhoni. Few games I've been watching of his, he is brilliant. He has been fantastic." In the ad, the cricketers challenge the footballers to a game of cricket to win Pepsi. While the footballers show them how to play cricket – football style. "Playing football in cricket style, that's a very new thing for us." Lampard said. Torres said "Playing soccer in cricket style was real fun."
---
Michael Carrick on Sachin's last game. (November 2013)
"A true great of sport @sachin_rt retiring, had some innings!! The little master will be missed," Carrick wrote.
---
Michael Owen on Sachin's retirement, (November 2013)
"Congratulations to Sachin Tendulkar @sachin_rt on his retirement after an absolutely incredible career. #littlemaster," Owen wrote.
---
Sunil Chetri and Virat Kohli on each other (January 2016)
The captains of their respective sports exchanged tweets with each other, the skipper congratulated team India for lifting record 7th consecutive SAFF trophy. The Indian football captain tweeted back quickly and wished him all the very best for his remaining matches.
---